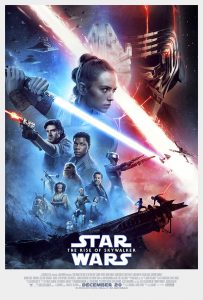 Någon gång måste alla trilogier få finna sina slut, och i och med Star Wars: The Rise of Skywalker, av J. J. Abrams, torde även berättelsen om Skywalker ha hunnit till sin ände. Det tog dock en trilogi av trilogier att nå dit, men nu ska väl äntligen den där galaxen långt borta för länge sedan få lite ro.
Handlingen inleds en tid efter händelserna i slutet av Star Wars: The Last Jedi, med en något decimerad "Första Ordning" och en något mer decimerad grupp av rebeller som slickar sina sår. Via en oväntad radiosignal, och ett meddelande från en spion, upptäcks att den gamle hyper-ondingen Kejsare Palpatine åter kommit igång efter att ha avlidit för ett par filmer sedan. Nu är planerna större än någonsin med en veritabel armada av planetförstörare redo att inom kort krossa allt icke-imperiellt i galaxen. Tiden är knapp, och vägen till lösning är krånglig. Först måste man ju hitta rätt, och det kan man bara göra med rätt hjälpmedel, och man måste ha med sig rätt folk. Därför får vi åter träffa gamla favoriter från tidigare filmer för en sista runda mot ondskans krafter.
Filmserien kanske förtjänar en bättre avslutning, men den fyller sin funktion på ett bra sätt. De viktigaste trådarna knyts ihop och det är en lagom nivå av spänning och drama mest hela tiden. Överraskningar finns, men å andra sidan saknas det lite av en knorr på anrättningen. Det stora hotet känns nu i alla fall riktigt allvarligt, men det sjabblas lite med själva poängen med hotet. Vad driver egentligen ondingarna? Men nu äntligen får vi i alla fall en rejäl folklig resning, och det har jag saknat i de tidigare filmerna.
Det känns som min slutkläm här blir lite väl tråkig, men det vettigaste jag kan säga är att filmen är tillräckligt bra…