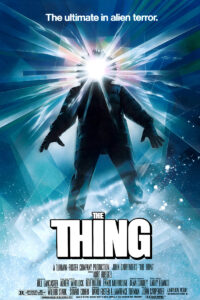 När Kiruna årligen har sin Snöfestival så brukar det bjudas på gratis filmvisning genom Kiruna filmstudios försorg. I år blev det John Carpenters klassiska, och så väldigt temariktiga, The Thing som stod på programmet.
Det är under ett par dagar på vintern 1982 i Antarktis som hela handlingen utspelar sig. En norsk helikopter flyger och jagar en slädhund genom det snöiga landskapet. Hunden springer till en amerikansk forskningsstation, och helikopterns passagerare råkar ramponera helikoptern för att sedan springa med gevär och skjuta vilt mot hunden. Han skriker några varnande ord på norska men skjuts själv ihjäl av den amerikanske stationschefen. Hela situationen är gåtfull så ett par av amerikanerna flyger till den närliggande norska forskningsstationen för att se vad som står på. De finner den nedbrunnen och utkyld med ett gäng frusna lik. Dessutom hittar de en märklig sargad kropp som de tar med sig tillbaka. Den visar sig vara roten till allt ont som skett på den norska stationen, och som nu även drabbar amerikanarna.
Det känns märkligt nu att läsa att en film som är så känd och omskriven nuförtiden som The Thing verkligen sågades av filmkritiker och publik när den släpptes för 40 år sedan. Tydligen så passade inte filmens pessimistiska ton och antiauktoritära anslag inte ihop med tidsandan. Jag tycker dock att det är en riktigt bra sammansatt film. Det är skönt med en riktigt tydlig berättelse utan sidospår, men som inte visar allting. Saker har redan hänt innan filmen börjar, och saker händer under filmens gång utan att visas. Det är ju också ett bra filmisk miljö att hålla en ytterst liten grupp av män helt isolerade från omvärlden, och att dessutom inte vet vem eller vilka av de andra i gruppen de kan lita på. Paranoia är en bra grogrund för en intrig.
Filmen sågs genom Kiruna filmstudio.