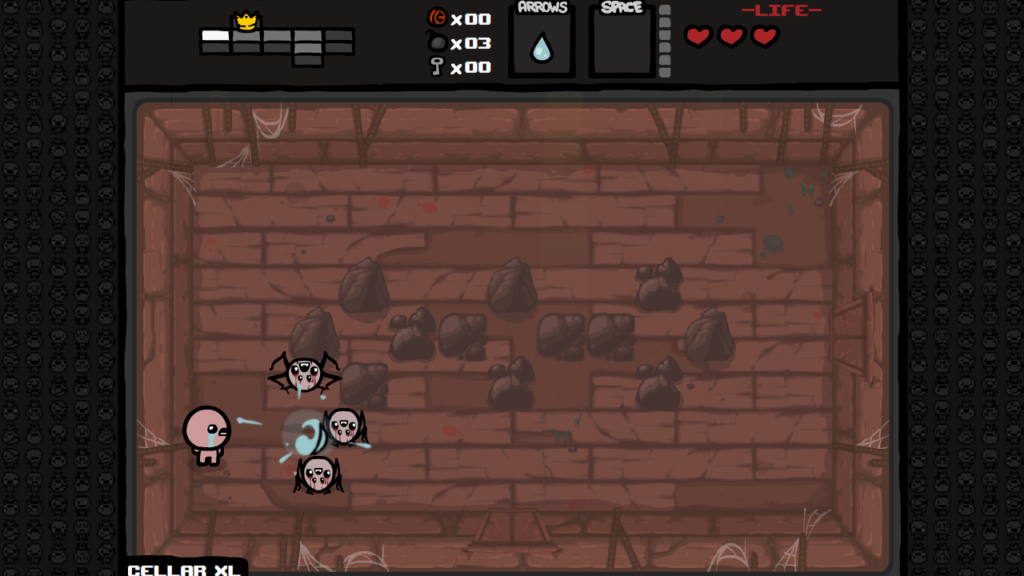 På sista tiden har jag spelet en del spel med litterära förlagor. The Binding of Isaac bygger, måhända mycket löst, på den bibliska historien (Första Mosebok 22:1-18) om hur Abraham på guds uppmaning ska offra sin son Isak. Spelets Isaac är en liten pojke som bor med sin mamma i ett litet hus på en kulle. Mamman hur en röst från ovan som uppmanar henne att hålla all världens ondska borta från sin son. Hon låser därför in honom i sitt rum, utan vare sig leksaker, teckningar eller kläder. En ny uppmaning kräver sedan att hon ska offra Isaac för att bevisa sin hängivelse, men han råkar höra det och flyr ner till källaren genom en golvlucka som han hittar under en matta i sitt rum. Där nere, på olika nivåer under marken, får Isaac leta sig fram i olika rum bebodda av insekter, spindlar, larver, eller aspekter av sig själv i olika stadier av förfall, och till att börja med har han endast sina tårar att använda för att mota dem. Olika objekt han hittar under sitt irrande för honom allt längre från den lilla oskyldiga pojken han var när historien startade, men gör honom samtidigt mer lämpad att möta farorna som finns i underjorden.
Spelet i sig, bortsett från dess inramning, är ett ganska typiskt grottkryparäventyr av lite gammalmodigt snitt där man inte kan spara i spelet utan bara får ett försök på sig att komma igenom spelet. Eftersom både kartan man irrar fram genom, objekten man hittar, och monstren man möter skapas via slumpbaserade algoritmer varierar spelet väldigt mycket från försök till försök, vilket gör att man kan spela väldigt länge, och göra många försök, utan att det blir tråkigt. Det var viktigt för mig, eftersom jag av tradition inte är särskilt bra på den här typen av spel där spelarens reaktionsförmåga är av högsta vikt och därför behövde väldigt många försök innan jag kunde känna att jag klarat av spelet tillräckligt för att känna mig nöjd. Måhända är slumpmässigheten lite för hög bland sakerna man kan hitta vilket gör att svårigheterna varierar mer än vad som egentligen känns rättvist. Å andra sidan tar det inte alltför lång tid att göra ett försök, så man kan se dåliga personliga uppgraderingar som en utmaning snarare än en nitlott.
Det konstnärliga utförandet av the Binding of Isaac i ljud och bild är alldeles utmärkt, liksom även det tekniska utförandet frånsett att spelet kan sacka lite när man har spelat det ett längre tag. Man kan ju se det hackandet som en signal att det är dags att sluta spela, och då är det snarast en service från spelets sida. Det är ett spel som är lätt att ta till sig och börja spela, men som samtidigt är riktigt svårt att bemästra. I och med att det också innehåller teman som inte är alltför vanliga i spelsammanhang är spelet mycket väl värt att spela.