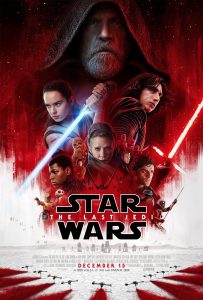 Luke Skywalker tjurar på en grön ö vid havets rand dit Rey har farit för att tala honom till rätta. Samtidigt kämpar rebellerna mot Första Ordningen i ett större rymdskeppsslag där både den illsinnige Kylo Ren och hans mamma deltar. Handlingen i Star Wars: The Last Jedi tar helt rakt vid där Star Wars: The Force Awakens avslutades när jag lämnade bion för ungefär två år sedan.
Den här gången är det Rian Johnson som stått för regin, men trots en ny regissör känns det mesta i den där galaxen långt långt bort välbekant. Filmens handling puttrar på i ett bekvämt tempo, men den känns ganska mycket som en övergång. Det känns som om filmens största syfte är att leda från ett givet galaxtillstånd, där förra filmen slutade, till ett annat, där nästa film i serien ska ta vid. Jag saknar alltså en del intrigmässig självständighet, men jag fick i alla fall se en del nya gulliga djurarter dyka upp då och då. Jag fick också tillräckligt mycket anspelningar på tidigare filmer i serien för att känna mig uppiggad.
Star Wars: The Last Jedi fungerar bra på mig. Handlingen har en del rätt oväntade vändningar, vilket känns lite vågat när man tänker på hur ärkekonservativa de största anhängarna till den här filmserien brukar kunna vara. Det gör den lite uppfriskande. Däremot känns en del slapstickande lite fånigt i sammanhanget, när man tänker på att det är galaxens framtid som ligger i vågskålen. Det drar lite åt billigare underhållningseffekter snarare än åt djupet i hjältarnas personliga utveckling. Det drar mer åt underhållande äventyr än åt karaktärsdjup. Det är så stjärnornas krig ska kännas.