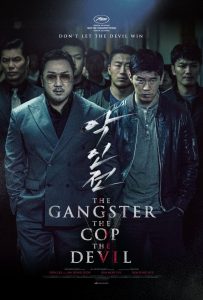 Nu har årets upplaga av Arctic Film Festival i Kiruna dragit igång. Den här gången var invigningsfilmen den koreanska The Gangster, the Cop, the Devil av Lee Won-tea, vilket kanske kändes lite oväntat med tanke på att det finns betydligt bredare filmer i programmet.
En man blir påkörd i sin bil, och när han plockar fram kameran för att ta bilder på karosskadan attackeras han med kniv av den andre föraren. En stentuff snut utreder och misstänker att mordet kan ha utförts av en seriemördare. En ännu stentuffare gangsterledare attackeras av samma gärningsman, men överlever och hamnar på sjukhus. En jakt på mördaren tar därmed sin början från två olika håll, och även ett slags samarbete över "lag-gränserna".
Filmen är så spännande som thrillrar ska vara. Den har snyggt foto och många fina bildövergångar att njuta av mellan en del ganska råa, men i regel inte alltför blodiga, sekvenser. Lite överspel märks, men det kommer nästan automatiskt när rollfigurerna har fått så pass serietidningsaktiga personligheter att det ibland närmast drar åt det komiska hållet. Filmen är utmärkt, och den grundläggande trekampen mellan de tre personerna i filmens titel är en bra grund för historien.
Filmen sågs på Arctic Light Filmfestival, Kiruna.