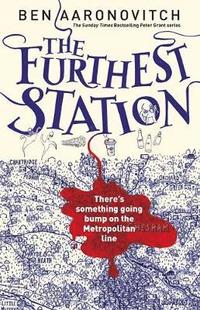 I am a big London Underground enthusiast, but there was one tube line I never travelled on and that was the Metropolitan Line. I never really had any reason to do that, and thus it always felt a bit mysterious to me. not leas becaue the line was so long that they ran out of numbers for the zones of the furthermost stations and had to use letters instead. On the other hand, I used to travel a lot in the good old A stock trains on the East London Line which were also used on the Metropolitan. They were rather old and unusually comfortable but the line charts inside the cars were confusingly showing all the Metropolitan stops. Thus, they feel familiar to me event though I have not visited those places.
After reading the novella The Furthest Station by Ben Aaronovitch it feels as if it was good that I never went on the Metropolitan Line. The trains on that line seem to be infested with ghosts. It is good that PC Peter Grant of the Folly is available to sort out the situation. The novella is part of the book series beginning with Rivers of London, and the story is set in time between Foxglove Summer and The Hanging Tree. This means that the story contains detailed description of police work, rivers with unusual personalities and the inner workings of magic.
It is rather refreshing to read a shorter story within this background universe but without the story having big implications on the big scale storyline. The novella simply shows a glimpse of the life of a police constable working with cases where magic connections are suspected. Similar to an episode in a long-running TV series. I like it.