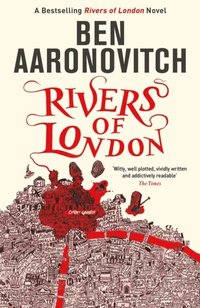 I was living in London for four years, and during that time I began considering London itself as a living organism, similar to the description of the city in Peter Ackroyd's monumental
London: The Biography
. These ideas also appear in
Rivers of London
by Ben Aaronovitch, where the London rivers are present in a much personal manner than in most other stories I have read.
Rivers of London is a detective story, beginning when a beheaded body is found at Covent Garden. The main character in the book, Peter Grant, is a probationary constable in the Metropolitan Police and he gets the task of guarding the crime scene after the body and everybody else involved in the investigation has left. Somewhat surprisingly he finds a witness to the crime lingering at the scene, and more surprisingly the witness turns out to be a ghost. It turns out that the Police has a unit for supernatural cases, and Grant is transferred to this unit under the supervision of Inspector Nightingale, who also happens to be a wizard.
I enjoyed reading this book. The setting in central London is of course one of the reasons for an Anglophile like myself to like the book, but also the relaxed language, which reminded me to some extent about the writing of Douglas Adams, made the book a pleasant read. It feels good to be able to follow many of the geographical and pop-cultural references interspersed in the text. Unfortunately, the sequences in the book that are focusing on action and suspense feel less exciting than the rest, and the habit of having cliffhangers at the end of the chapters feels constrained at times. However, the good mood and the large amount of creative ideas compensate these flaws more than enough.
This is the first in a series of novels following Peter Grant and his adventures solving crimes amongst London's unknown inhabitants. There is a clear risk that I will read more books from this series.