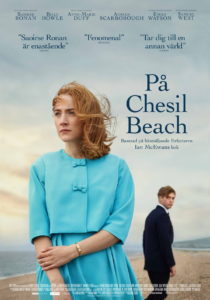 Året är 1962 och det nygifta unga paret har på sin bröllopsresa tagit in på ett hotell på den engelska sydkusten. De känns tafatta och rätt obekväma med situationen när de serveras middag på rummet där bröllopssängen väntar. I en serie tillbakablickar får man en liten inblick i deras bakgrunder och hur de träffas, med kärlek vid första ögonkastet. Hon är klassiskt skolad violinist med egen kvartett och han gillar Chuck Berry. Hon kommer från en familj i övre medelklassen medan han kommer från den övre nedre medelklassen, och som jag lärt mig i Watching the English- The Hidden Rules of English Behaviour är det en av de svåraste kulturbarriärerna att passera i det där märkliga landet. Trots detta älskar de verkligen varandra, passar utmärkt ihop och allt borde vara bra. Men taffligheten har också en bakgrund – de vet inte hur de ska bära sig åt i sängen, och det är också ingenting man talar om. Det fungerar inte alls, och deras gemensamma historia tar sig en bitter vändning.
Med filmen På Chesil Beach har Dominic Cooke tagit sig an att regissera boken med samma titel, skriven av Ian McEwan, och det med rätt lyckat resultat. Det är mycket välspelat i huvudrollerna, och filmen känns i det stora hela genomtänkt och balanserad. Den tar ett rejält tag på sig att komma till poängen, men i och med att filmens tema är så pass ovanligt, och vägen till poängen så pass intressant, så gör det ingenting. Däremot skämmer slutet med två epiloger som sentimentaliserar onödigt övertydligt. Det är minst en epilog för mycket.
Filmen sågs genom Kiruna filmstudio.