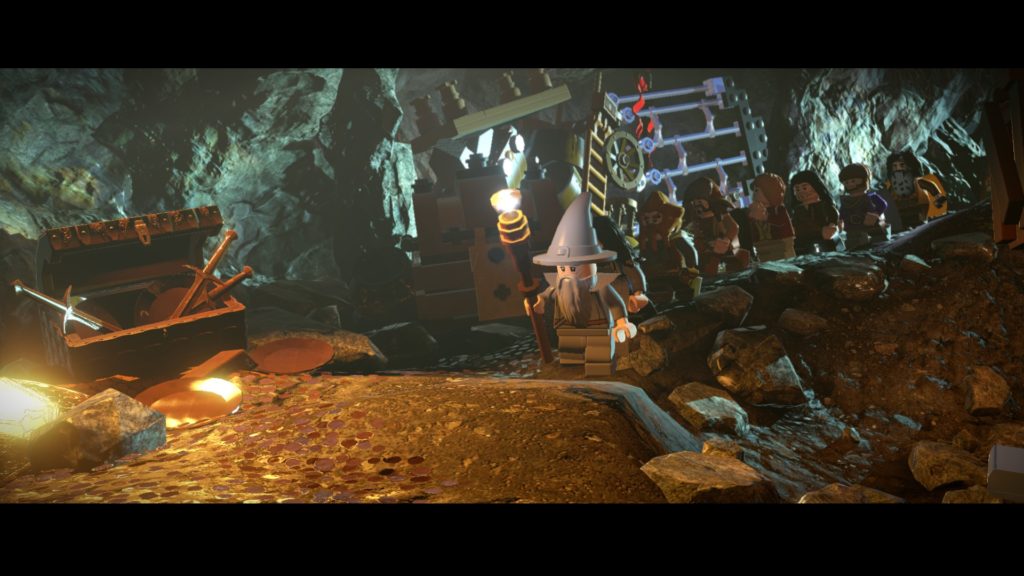 Lego The Hobbit är förstås den naturliga uppföljningen av Lego The Lord of the Rings. Det blir så att säga mer av samma sak, vilket betyder en historia som troget följer filmerna men är kryddad med förhållandevis enkla problem att lösa och en hel del skojigheter och billiga poänger. Det betyder tyvärr också en tangentbordsstyrning som ligger åt det irriterande hållet och lite bristande variation i vad man ska göra. Och så lockade spelet förstås åter fram min dåliga sida att inte sluta före 100% är avklarat.
En viktig sak att ha i minnet när man börjar spela är att spelet faktiskt inte är komplett. Det är bara de två första filmerna i trilogin som kom med i spelet innan det blev något käbbel med varumärkeslicenserna, så handlingen avrundas rätt rumphugget. Det är å andra sidan ganska passande för mig, eftersom jag faktiskt bara sett de två första filmerna och det aldrig blivit av att se den tredje. Spelet har alltså inte påverkat min spänning att se hur det ska gå för den stackars staden när draken ger sig ut.
Förutom tidigare nämnda brister så lider spelet även av att det stora antalet figurer, eller i alla fall det stora antalet dvärgar i sällskapet, i stort känns rätt likartade, och att själva berättelsen är rörigt genomförd. Det hängde sig också för mig lite för ofta, och det kraschade också emellanåt. Å andra sidan är det fortfarande hur roligt som helst att gå in och pulvrisera allt lösöre till dess innersta byggstenar (legobitar) och sedan bygga något nytt och praktiskt användbart av det. Man ska hålla fast vid de enkla nöjena i livet, och kul har man mest hela tiden när man spelar Lego the Hobbit.