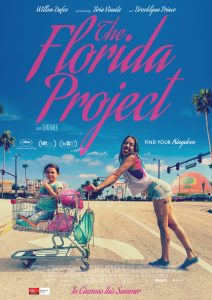 En smula vid sidan om, men inte alltför långt ifrån, Disney World i Florida hittar man lågprismotell med anmärkningsvärt ambitiösa namn. I ett av dem, med namnet Magic Castle, bor den sexåriga flickan Moonee med sin mamma. Det är sommar och hon springer omkring och leker med sina kompisar vind för våg medans de vuxna sliter för att på olika sätt få livet att gå ihop en vecka i taget.
Med den kortfattade beskrivningen av The Florida Project låter Sean Bakers film inte alls som något speciellt, och till att börja känns upplevs det hela mest som att man får följa med ett par jobbiga ungar som mest skriker till varandra och alla de möter. Men allt eftersom filmen går vidare fastnar man i historien och i all de människor som bor i dessa sjabbiga motell så nära ett av den ytliga turismens stora tempel. Barnen tar efter de vuxna, som verkar sakna ambition eller ens hopp om att ta sig ur fattigdomen. För det är verkligen fattigt på de här ställena, där folk bor mer eller mindre tillfälligt i brist på andra möjligheter. Men det filmen vill berätta är att det är människor som lever där, med allt det goda och det dåliga som det innebär.
Det tar verkligen ett tag att komma in i filmen, men det är den värd. Skådespelarna känns riktigt trovärdiga i sina roller, och miljöerna känns märkligt skeva med hotellens tuggummifärgade fasader och de där mellanrummen mellan vägar och parkeringar som sexåringarna har som sina lekplatser, men som man annars aldrig egentligen ser. The Florida Project är en film som växer, och som markerar vikten av humanism i världen.
Filmen sågs genom Kiruna filmstudio.