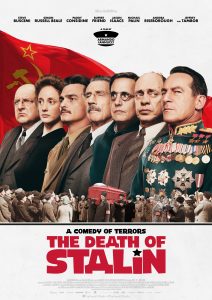 En förhållandevis vanlig fråga att ställa är om man kan skämta om precis allt. En mindre vanlig fråga är om man kan skämta om utrensningarna som skedde i Sovjetunionen under Stalins tid. Oavsett svaret på den frågan är det i varje fall ett av elementen i filmen The Death of Stalin av Armando Iannucci.
Filmen inleds i alla fall med en konsertkväll i Moskva år 1953, då Stalin via telefon efter konsertens slut meddelar att han önskar få sig en inspelning av konserten. Ingen inspelning hade dock gjorts, så något måste göras för att generalsekreteraren skulle kunna få sin vilja mött. Man vet ju vad som händer med dem som på något sätt misshagar honom. Den inledningen ger en riktigt listigt, och lustigt, iscensatt bild av stämningen i Sovjetunionen under tidigt femtiotal, där i stort sett alla kunde hamna på listan över folk på tur att "försvinna".
Huvuddelen av filmen handlar dock om maktkampen som tog vid när Stalin plötsligt dör, och då framför allt rivaliteten mellan Lavrentij Berija och Nikita Chrusjtjov. Alla dessa mäktiga män i den innersta kretsen framstår i filmen som rätt futtiga filurer, men också mycket farliga, och märkligt nog känns de trots den tillskruvade situationskomedin som riktigt trovärdiga. Det kan man tacka filmens rapphet för, men framför allt härliga samlingen av skådespelare som är med i filmen. Filmen är riktigt underhållande, men någonstans känns det också riktigt obehaglig att kombinera satir med fars om ett så pass obehagligt ämne. Det är nog det sistnämnda obehaget som är den lilla extra kryddan som gör filmen värd att se.
Filmen sågs genom Kiruna filmstudio.