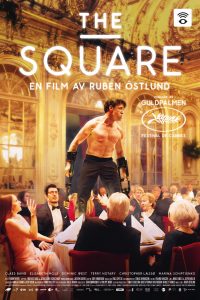 Konstvärldens uppblåsthet och självgodhet är lätt att göra narr av, men Ruben Östlund skruvar till det ett snäpp till hans omtalade The Square. Ett museum för modern konst, som råkar ligga i Stockholms slott, ska till att öppna en ny utställning som bygger på verket The Square, en ruta på marken utanför där solidaritet, tillit och tolerans skall råda. Chefen på muséet, den lätt slirige dansken Christian, råkar bli av med sin mobil och sin plånbok vilket leder till en serie händelser där han allt mer förlorar kontrollen över vad som händer.
Filmen är en träffande satir som är riktigt rolig ibland, men också mycket tänkvärd. Den handlar om fördomar. Den handlar om att prata om höga ideal men inte följa dem. Den handlar om cynism i marknadsföring. Den handlar om tomheten som ofta uppstår i uttrycket i den moderna konsten. Den handlar om felslut. Den handlar om civilkurage. Den handlar om att våga lita på folk. Den handlar egentligen om alldeles för mycket. Filmen är ganska lång, men det är för att den försöker få med så oerhört många idéer vilket gör att inte känns utdragen. Däremot känns den mastig.
Filmen sågs på Arctic Light Filmfestival, Kiruna.