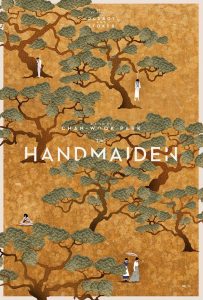 Vackra bilder, listig och vindlande intrig, och så erotik. Ganska mycket erotik. Park Chan-wooks The Handmaiden är en lätt film att beskriva på ytan, men den är svår att skriva om. Den utspelar sig i Korea under 1930-talets japanska ockupation, och inleds när den unga kvinnan Soo-kee anländer till ett enormt gods för att arbeta som kammarjungfru åt Lady Hideko, en oskuldsfull ung kvinna som bor hos sin pornografifixerade farbror. Men ingenting är som det verkar vara. Soo-kee är i själva verket en bedragerska som deltar i en plan för att komma åt ett stort arv, men när Hideko och Soo-kee faller för varandra börjar det komplicerade bli ännu mer komplicerat. Och ingenting är fortfarande som det verkar vara. Kan man lita på vilka lögnerna är?
Det kändes till en början som att filmen handling rörde sig lite ryckigt framåt, men allt eftersom inser man att historien kräver att berättas på det sättet. Den känns genomtänkt, och bilderna och skådespelarnas samspel sitter närmast perfekt. Normalt sett skulle en film av The Handmaidens längd kännas lite lång, men filmen håller för sin längd. Sexscenerna är påfallande explicita, men de fungerar bra i sammanhanget. Om jag absolut ska hitta något att klaga på så är det att musiken till eftertexterna är bedrövlig.
Det är skönt med en riktigt ordentlig filmupplevelse. En film som verkligen kräver en biografsalong för att fungera till fullo både visuellt och koncentrationsmässigt.
Filmen sågs genom Kiruna filmstudio.