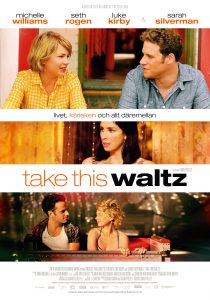 Margot råkar möta en kille på en turistig historisk plats i Nova Scotia, och han hamnar också bredvid henne på flyget hem till Toronto. De småflirtar lite och delar en taxi från flygplatsen. När det visar sig att han bor tvärsöver gatan från henne förvandlas hennes lilla romantiska fantasi till verklighet, och det är nog inte vad hon ville från början. Margot är nämligen lyckligt gift sedan fem år med en varm och rolig man som är en hejare på att laga mat. Hon verkar inte veta vad hon vill, och vacklar fram och tillbaka mellan att välja tryggheten eller att våga försöka växa som människa och följa passionen.
Det är inte någon särskilt originell historia som Sarah Polley berättar i Take This Waltz, och all tvehågsenhet gör att dialogen i stora delar av filmen känns stel och halvhjärtad och som att den inte vet vart den ska ta vägen. Filmen känns dessutom rätt pratig, men det gör att de personligheterna hos rollpersonerna kommer fram riktigt bra och pratet har en del poänger. Det gör dessutom att ett par helt ordlösa scener med musik sticker ut ordentligt i filmen. En scen med "Take This Waltz" (Leonard Cohen) fångar hyfsat, men rätt beräknande, upp den stora passionen och hur den utvecklas med tiden, men det är framför allt tivoliscenerna med "Video Killed the Radio Star" (The Buggles) som jag gillade. De är rent ut sagt lysande! De skildrar kombinationen av förälskelse och eftertanke på fantastiskt sätt och lyfter hela filmen i mina ögon från något lite småtrist till något bra. Egentligen borde filmens titel komma från dessa scener istället, men Video Killed the Radio Star är nog inget bra namn på ett romantiskt drama. I alla fall inte om man ska ta det på allvar.
Filmen sågs genom Kiruna filmstudio.