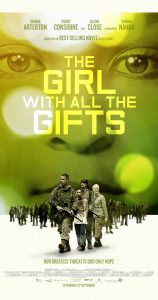 I en cell i någon slags militär anläggning hålls en flicka fången. Hon heter Melanie, och hon förs fastlåst i en rullstol och med vapen riktade mot skallen till en lektionssal där hon, tillsammans med ett tjugotal andra fastkedjade barn, undervisas i största allmänhet som en del i något slags experiment. Uppenbarligen har något gått mycket snett i världen som verkar vara i slutfasen av något undergångsskeende. Roten till det onda visar sig vara en mycket smittsam svampinfektion som snabbt förvandlar vanligt folk till bitska och blodtörstiga, men som tur var dumma, zombieliknande varelser, och Melanie kan vara nyckeln till ett fungerande vaccin.
Filmen The Girl with All the Gifts av Colm McCarthy är riktigt spännande. Med ganska enkla medel höll den mig fast hela tiden, och jag kom flera gånger på mig själv med att hålla andan. Jag är riktigt tacksam för att det för en gångs skull inte är specialeffekterna som är filmens hjärta, som som så ofta i den här typen av filmer, utan att det är själva handlingen som får stå i fokus. Filmen ställer en del bra frågor och tar till flera oväntade grepp. Personligen gillar jag också att delar av filmen utspelar sig i ett murgrönerufsigt London som stått otuktat i ett tiotal år.
Det är en filmatisering av en bok med samma namn av M. R. Carey. Den har jag inte läst, men av vad jag precis har sett att döma borde jag kanske göra det.
Filmen sågs på Arctic Light Filmfestival, Kiruna.