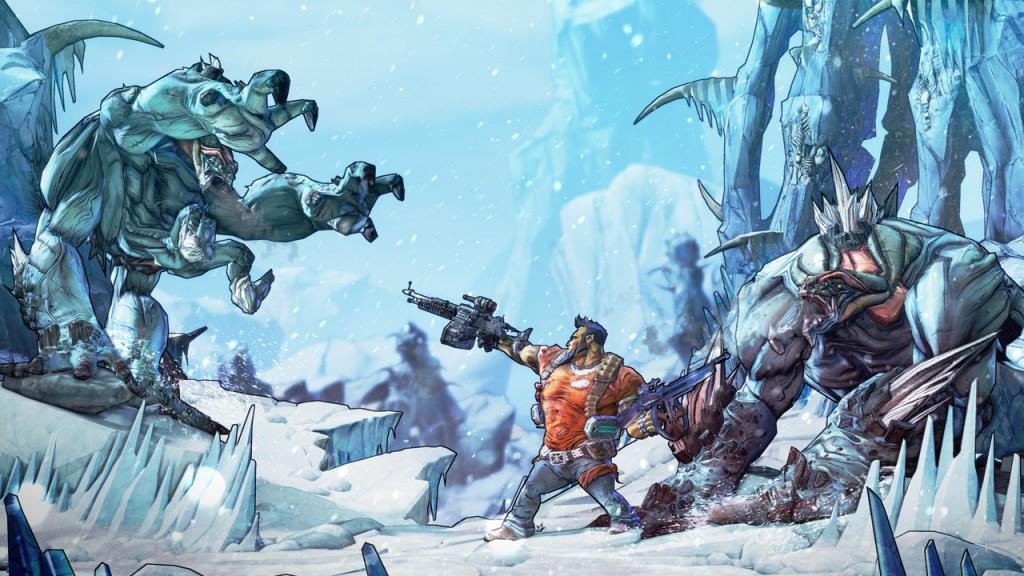 I always hesitate before playing a sequel to a game when I have not played the original one. In the case of Borderlands 2 there were 22 months for me between purchasing and playing the game. It also took me more than two months to get through the full game once, further indicating that the flow of time has been unusual for me. To compensate for that, this text will only contain brief comments.
In the game you can play as one of four characters, each with their own specialty. You are a Vault Hunter, a particular variety of treasure hunter, arriving at the planet Pandora. However, the villainous and powerful Handsome Jack has set a trap and you are almost killed in an explosion on a train. An irritating robot called Claptrap helps you get on your feet, and you start an epic journey through Pandora's wilderness, towns, bases and eridium mines to bring Handsome Jack down.
Borderlands 2 is a first person shooter where you complete a large number of missions to reach the final goal of the game, and of course to grab some loot. The large variety of weapons that can be used makes it possble to have several different strategies for each fights, but also to change the strategy mid-fight if needed. This is needed because the enemies have different weaknesses that have to be exploited, and it is the main reason why the gameplay feels sufficiently varied to keep me playing for so long. However, I reached a point where it felt as if the game was simply too big for me and I just wished it to be over since I had played for so long and I really wanted to see how the end of the story. This feeling could of course have been avoided if I had been able to keep my playing time more focused and I had not spent my evenings doing other things (conferences, workshops, film festivals, sport, …).
While the gameplay is rather standard, it is in the atmosphere of Pandora that this game excels. The world is interesting in itself and not just as a background to the story. There is also a particular cartoony sense of humour in the game as well as a cartoony visual style of its characters that is entertaining if you are in the right mood, or you can just ignore it in case of wrong mood. The game is also very fun to play cooperatively with friends, although I have not been able to do that for more than one evening.
Borderlands 2 is a solid game.
Note: I was not able to make a screenshot from the game on my Playstation 3, so I instead used a picture from the game developer's website as illustration.