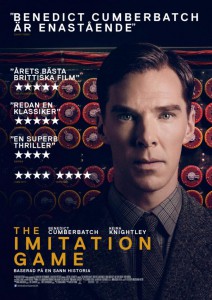 Alan Turing har betytt oerhört mycket för det moderna samhället i och med att han formaliserade en stor del av principerna på vilka den moderna datorteknologin bygger. Han var också under andra världskriget ledande i det brittiska arbetet att dekryptera de tyska militära meddelandena som ansetts vara omöjliga att få klartext ur i och med att Enigma-maskinen använts för krypteringen. Turing ansåg att en maskin även skulle användas för att hitta nyckeln till koderna. Det är till största delen om det senare som filmen The Imitation Game handlar.
Filmens grundhandling utspelar sig under tidigt 1950-tal då ett inbrott har skett i Turings hem, men större delen av historien berättas i tillbakablickar, främst från det topphemliga kodknäckartillhållet Bletchley Park under kriget men också i episoder från skoltiden. Morten Tyldum har regisserat filmen, som känns välgjord på alla sätt. Skådespelarna, musiken, scenografin, dialogen, ja allt utstrålar kvalitetsfilm. Det hade effekten på mig att jag distanserades en del från filmen. Det som helt klart var starka scener påverkade mig inte så djupt som de borde utan filmen kändes som ett påhittat drama och inte som att det faktiskt hade hänt i verkligheten. Man måste komma ihåg att även om The Imitation game bygger på en biografisk bok så är den inte en dramadokumentär utan en dramatiserad version av verkligheten. Jag undrar om det är den lilla skillnaden som fick mig att förlora närheten, eller om det helt enkelt var så att jag var lite för mätt när jag började titta på filmen. The Imitation Game är ju en bra film.
Filmen sågs via Kiruna filmstudio.