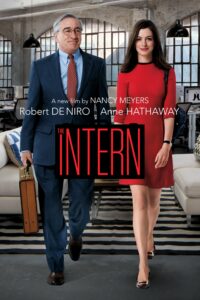 Det filmer som är så pass trivsamma att det inte gör något att man ser om dem lite då och då. The Intern av Nancy Meyers är just en sådan film, och jag har nu sett den åtminstone tre gånger. Även om den stundtals är övermåttan fånig och gullig så sitter jag och trivs framför den. Jag har väl lite fån och gull i mig.
Filmen rör sig kring en näthandelssajt med bas i Brooklyn som har vuxit enormt snabbt. Ben Whitaker är en pensionerad änkling som har lite svårt att fylla sina dagar med innehåll, och söker därför en så kallad pensionärspraktikantplats (Senior Intern) på sajtens huvudkontor som av oklara anledningar har utannonserats. Jules Austin är hjärnan och hjärtat bakom sajten, och hon får lite mot sin vilja Ben som personlig praktikant. Jules har lite svårt att para ihop familjelivet med sina affärsframgångar men med hjälp av Bens livserfarenhet så styrs allt upp till det bättre.
Jag borde egentligen inte gilla det här dravlet, men jag gör det ändå. The Intern är gjord med ett gott humör, och skådespelarna i huvudrollerna (Robert De Niro och Anne Hathaway) är på topp, så att jag inte behöver bry om dess brister. Det finns en rent idiotisk sekvens i filmen där ett felskickat meddelande ska åtgärdas, men det påverkar ändå inte mitt goda humör. Jag är till och med opåverkad av den återkommande tanken i filmen att en kvinna i karriären inte skulle kunna vara lycklig.
Filmen sågs genom Kiruna filmstudio.