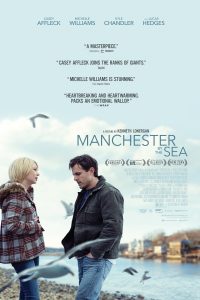 Lee jobbar som tämligen butter fastighetsskötare i Boston för minimilön och ett rum att sova i. Storebror dör och Lee måste därför bege sig hem till den lilla kuststaden Manchester by the Sea, där han växte upp, för att ta tag i allt det praktiska efter dödsfallet. Bland annat får han vårdnaden om sin sextonårige brorson. Men att återvända hem gör att allt Lee ville lämna bakom sig bubblar upp till ytan igen, och det är inte enkelt att hantera.
Historien i Manchester by the Sea berättas lugnt och stillsamt, och med en del tillbakablickande som allt eftersom förklarar vad som ligger under ytan, men den rör sig hela tiden framåt i en ganska behaglig rytm. Scenerna fylls av vardagliga händelser, stor djup sorg och försök att åter bygga upp något som har rasat. Det är ett utmärkt exempel på gott filmhantverk som Kenneth Lonergan har regisserat. Alla skådespelare gör toppenprestationer genom filmen, med små gester men med mycket innehåll. Fotot är mycket snyggt med alla nyanser av grått, och allt känns genomtänkt och matchar historien.
Ibland känns den lite lång, och ibland känns den lite pratig, men framför allt känns den i magen som bra filmer ska göra.
Filmen sågs genom Kiruna filmstudio.