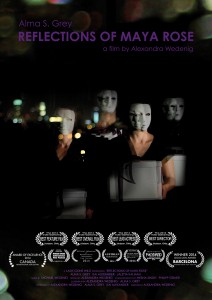 Friday nights may be the best time of the week to be pretentious. This is particularly true when visiting a film festival. I have just seen Reflections of Maya Rose, directed by Alexandra Wedenig.
The young actress Maya Rose auditions for the role as Ava Morgan in the film "The reflection and the mirror", that tells the story of Ava and Scott whose love is lost in time and space. She feels that there is a great similarity between herself and the Ava character, so the role should be hers. That is where the journey is initiated. Maya or Ava is found tied to a hospital bed with only a diary as a clue to what has happened.
There is a time for everything
Now is the time for something
It may not be what you expect
(Excerpt from Maya Rose's diary)
Elementary recursion, recursive elements. A film within a film. The camera pointing at a camera screen. Provision of clues to future events for the understanding of the past. Non-linear action at a distance; reciprocal demi-causal reaction. Transcendation, condemnation, inter-relation, exaltation. Los Angeles has millions of people, but only five people in sight. External void, internal duplication. A bird's nest of narration.
What is true in life, and what are mere reflections? What is truth?
I do not know, just combining words.
The film was viewed at Arctic Light Filmfestival, Kiruna.